Creating a basic process
Creating a basic process
By Alina Panaite
updated 3 months ago
This article covers everything you need to know about creating a process flow.
As a first step, let's clarify some terms:
process flow: a visual workflow diagram of all the actions and relations involved;

actions: process flows are made up of actions connected by relations. Each action either pulls data into PROCESIO, or pushed data out of PROCESIO, or transforms the data within PROCESIO;

relations: arrows between actions; these arrows not only connect the actions but also tell you how the data is flowing;

canvas: the surface (screen) where you work with actions and relations to create process flows.
Actions
Every process flow begins with a Start action available by default on canvas when initiating a new process.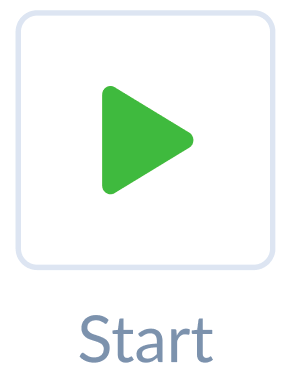 Drag action from Toolbar on canvas and connect it to Start action. Drag relations between actions to pass the data.
Every branch of the process must end with a Stop action in order to have a valid process flow. One Stop action is by default on canvas. If you have several branches, drag more Stop actions from Toolbar.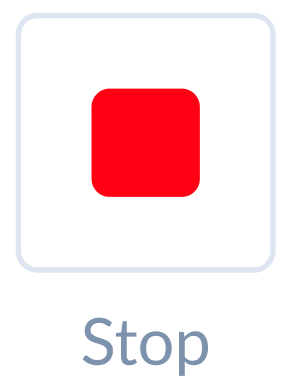 New process starts off as a blank canvas. Start and Stop actions are by default available on canvas. Start dragging and connecting actions to build your process flow.
Actions can be found in the Toolbar (lefthand sidebar). You can search for actions using the search bar, or you can explore the Toolbar's categories.

In Platform Actions tab, you will find actions designed and created by PROCESIO, while in Custom Actions tab you will find the actions created by you using the Create Custom Action capability.
Select the action you need to use, drag and drop it anywhere on the canvas.
In order to configure the action's settings, click on it and the Properties Panel will open on the righthand side. Once you have made the settings, make sure to click Save changes.
Some actions have the "Test Action" section. Use it in order to test the configurations made.
Duplicating and deleting actions
When right-clicking on an action, you will see a menu: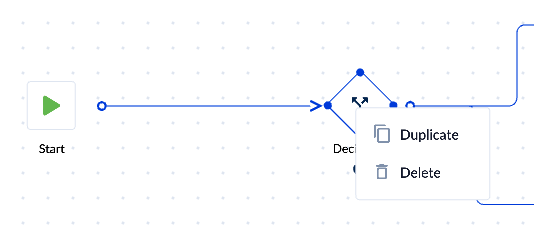 Click on Duplicate icon, to duplicate an action. It will automatically receive the name "action name (+1). You can change it in action's setting.
Click on Delete icon, to delete an action from the process flow. You can also hit the "delete" key on your keyboard to delete the action.

Relations
Drag relations between actions to tell PROCESIO how to pass the data across the actions.
You can also delete the relations by selection "Delete" icon for the corresponding relation. You can also hit the "delete" key on your keyboard to delete the action.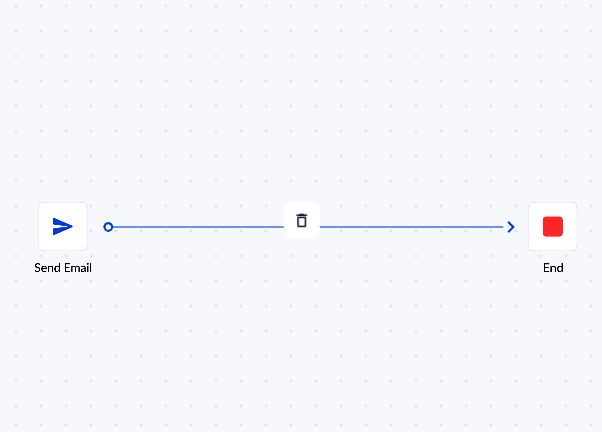 Creating a process flow
Step 1: Log in to the platform using your credentials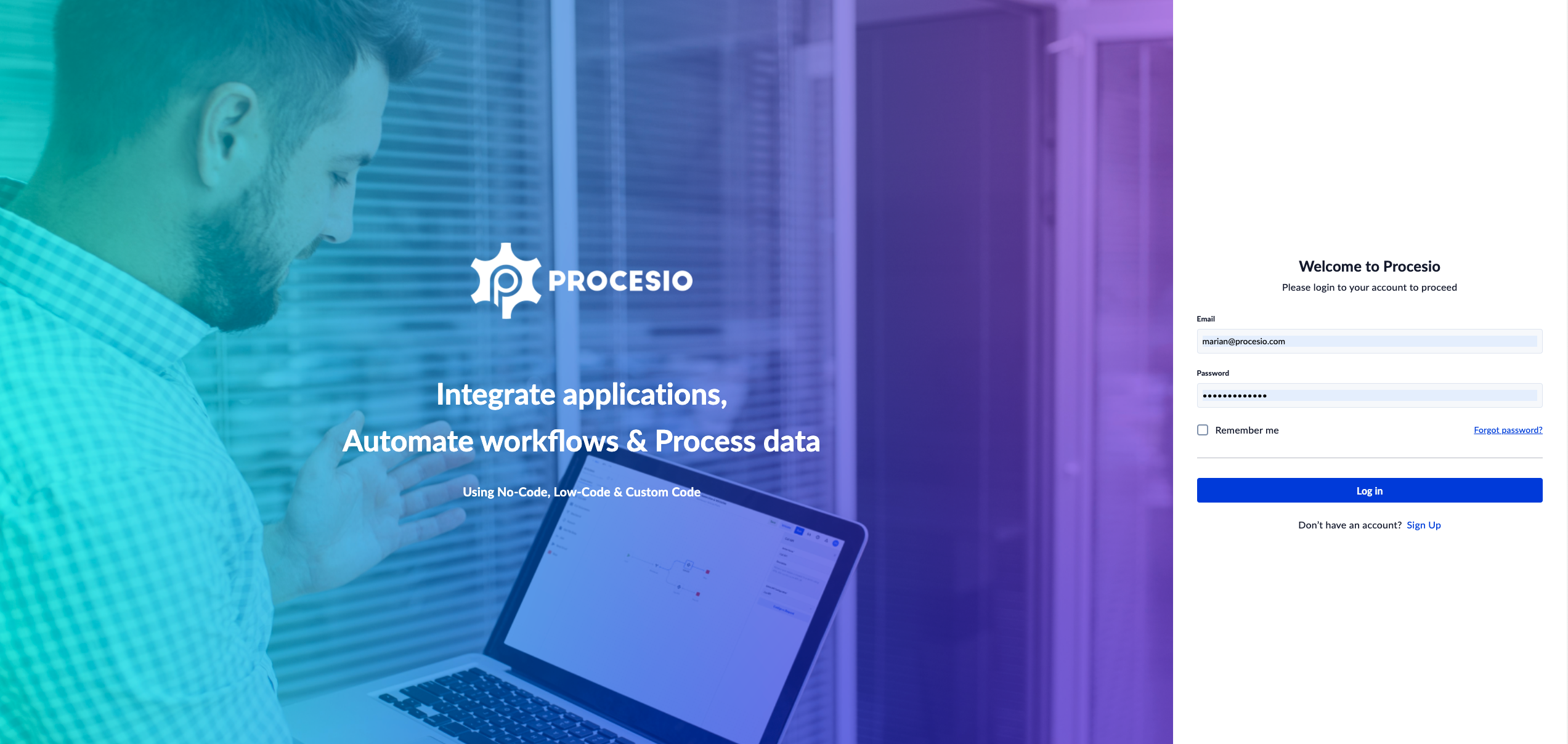 Step 2: Navigate to the "Process Designer" menu from the left sidebar

Step 3: Click on the "Create New" button on the top right of the screen
Step 4: Once in the canvas, rename your process by clicking on the "Untitled name" text

Step 5: Drag and drop a "Send email" action from the toolbar to the canvas.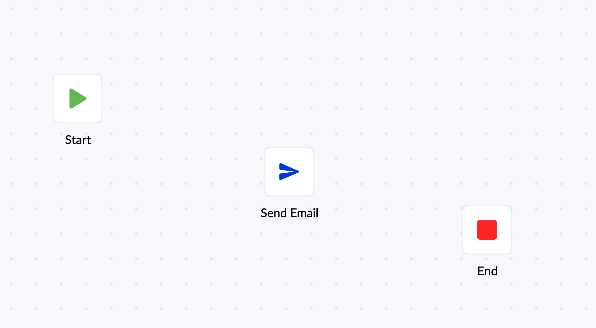 Step 6: Connect your actions by dragging relations between Start to Send Email to End.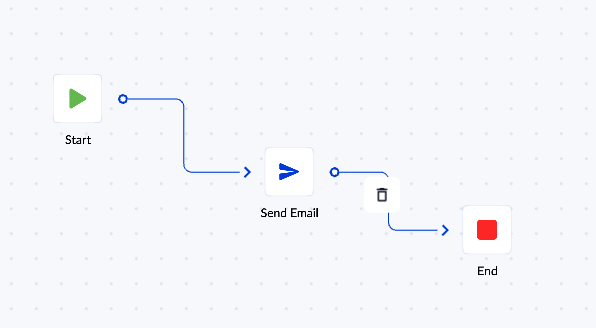 Step 7: Click on Send Email action to open its Properties Panel to configure action settings.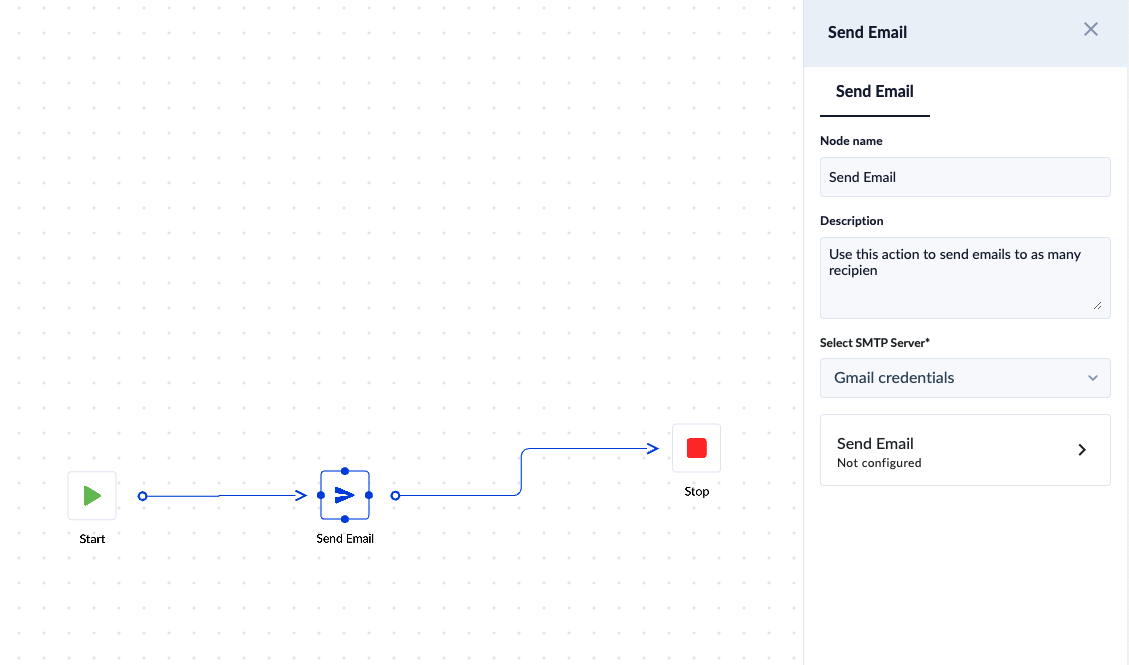 Step 8: Select your email server credentials configuration created in Credentials Manager.
Step 9: Click on "Send Email (not configured) " to display your email properties.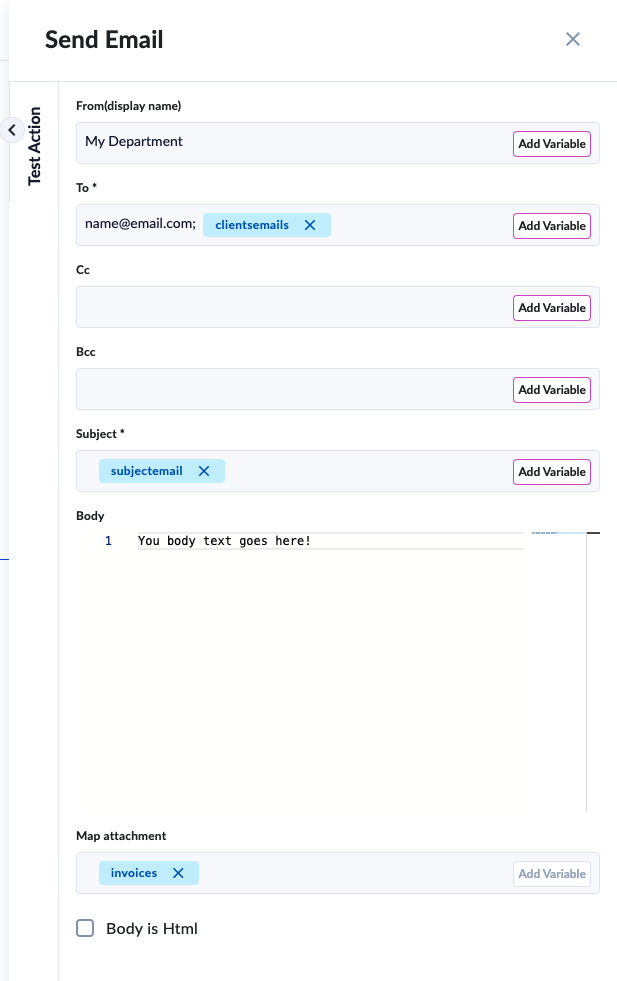 Step 10: Test you action configuration if the action settings has this capability (Send Email action is one of the actions with Test Action capability).
Step 11: Click Save button.
Step 12: Save the process flow by clicking 'Save' button on topbar. If your process has been successfully executed, you should see a confirmation message:

Step 13: Click "Validate". If there are errors, you should check the Process Errors panel.

Congratulations! You have created your first process flow in PROCESIO!
For running a process, head to the next article, Running a process flow.
Related links
Working with Process Variables
Working with Credentials Manager
Did this answer your question?